Welcome to the Official Website for young Model & Actress Ava Sydney Rodgers. Here you'll find the latest news, updates & images on this bright & talented little girl. You can view some of her work in her Portfolio. If you have any question's feel free to Email the Webmaster.
| | |
| --- | --- |
| 11 May 2013 | Happy Birthday! |
Today is a very exciting day for Ava, one that will be filled with well wishes, her favorite activities, cake, presents, and everything that makes this day special for her. That's right today is her birthday! Happy Birthday Ava! I hope you have an amazing day with family and friends, enjoying what you love to do, and that your birthday is everything you hoped it would be and more. It's your special day and I hope all of your wishes come true, Happy Birthday!

(Thanks Sarah for the banner!)
Posted by: lisa | comments 0
| | |
| --- | --- |
| 24 Dec 2012 | Happy Holidays! |
Christmas Eve is finally here! Ava has been counting down the days and tonight before she goes to sleep, will get to leave out milk and cookies for Santa and wake up tomorrow to presents and lots of fun memories to be made with her family. She would like to take a moment to wish everyone a Happy Holidays! No matter which holiday you celebrate, may it be filled with lots of love and happiness, all the best in 2013!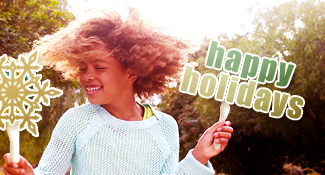 (Thanks Sarah for the banner!)
Posted by: lisa | comments 0
The Holidays are here! You may have just finished celebrating with your families or are anxiously awaiting the time to come in just a few more days. No matter which holiday you celebrate, it is a magical time of the year filled with lots of fun. It is also a time for big campaigns and lots of photoshoots as companies anticipate a lot of shopping and spending in their stores. Ava got to work on a fun shoot for Target and was seen on the main page of their website a little while ago! She and her friend had so much fun doing different poses and playing around, Ava certainly looks festive, all ready for the holidays!
Posted by: lisa | comments 0