Welcome to the Official Website for young Model & Actress Ava Sydney Rodgers. Here you'll find the latest news, updates & images on this bright & talented little girl. You can view some of her work in her Portfolio. If you have any question's feel free to Email the Webmaster.
Ava loves back to school time, while going to a new class can be a little scary at first, the shopping for supplies is fun and even more enjoyable is shopping for new clothes! She loves getting to pick out some of the coolest new fashions to wear to school, and just hits the store shelves, picking out what she thinks looks awesome. Kmart always has a fantastic selection and Ava was thrilled to appear in one of their back to school circulars! She was rockin the purple striped shirt, wearing her headphones and all set to board that school bus! The image came out fabulous and make sure to check it out in the gallery.
Posted by: lisa | comments 0
| | |
| --- | --- |
| 29 Oct 2012 | Hanna Andersson |
It's hard to believe that two years have already passed since Ava appeared in the winter campaign for Hanna Andersson! It still feels like just the other day her images appeared in their catalogs and on their website. She had such a fun time shooting with friends, getting to put on all the winter coats and snow pants, and the photographer rocked! Just recently a shoot image from a group shot Ava did surfaced. She loved how everyone was laying in a circle as the photographer captured an aerial view of them all down on the ground. Hanna loved it too, using it several times in their winter promotions. What a fun day and awesome photos!
Posted by: lisa | comments 0
Ava loves being on stage, her face lights up as the lights shine down, all eyes are on her and she does what she enjoys...performing! Ava is a part of an Acting Academy for kids and earlier this year they put on a production called Honk. Opening night was such a success, and Ava loved the rush she felt showcasing to everyone the work she had spent so much time rehearsing, and she definitely was a superstar up on that stage. She played the part of Penny, who is a Lovely Swan, and not only did the audience think she did fantastic, the program director did too! He stopped to pose for a photo with Ava, who was all smiles. Ava really hopes to get to be a part of another production soon, this one was so much fun!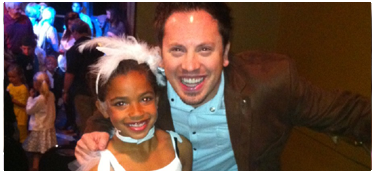 Posted by: lisa | comments 0