Welcome to the Official Website for young Model & Actress Ava Sydney Rodgers. Here you'll find the latest news, updates & images on this bright & talented little girl. You can view some of her work in her Portfolio. If you have any question's feel free to Email the Webmaster.
Ava had a fantastic time at her shoots for both Boden and Mini Boden earlier this year. It was so much fun for her to get to see the images from those fun days being used in both the catalog and website! For her Boden shoot, Ava got to work with a pretend mom, and new friend her age, that little girl's pretend mother, and they had a blast!! Four images have just surfaced including three we've never seen before! Very exciting! Ava can be seen laying in the grass surrounded by many colorful sticks, walking up the pathway with her hula hoop, and one of my favorite images...laughing as she gives her 'mom' a hug! Can't forget the shoot image from a banner seen on the website where Ava and her new friend got to hold up the blue ribbons they just won! Make sure to head to the gallery to see all the brand new images!


Posted by: lisa | comments 0
With the summer like weather back again for a visit these days, its a perfect time to take a trip back to Ava's summer campaign print work! Ava was featured in both the Boden and Mini Boden catalog and website enjoying some time out by the beach and the pool, very lucky! Two additional images have surfaced since the campaign's release, and they really make me wish for those summer days to be back again. We now have a really cute image of Ava being held by her "mom" alongside their friends that was seen on the main Boden website as well as a new picture from Mini Boden of Ava riding a bike along the docks with her friends! Love them! Ava had such a great time shooting the campaign and its great seeing images continue to surface!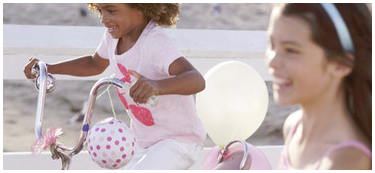 Posted by: lisa | comments 0
Awhile back Ava did a fantastic The Princess and the Frog sleepwear shoot for the Disney Store! Ava got to have loads of fun, laughing and giggling and her image was spotted in two different banners on the company's website! I'm very excited to say that we now have Ava's solo image from the shoot in HQ! Ava is too cute for words, standing there smiling as the photographer snaps her picture. Such a wonderful day on set and a great company to shoot campaigns for, great job Ava!!
Posted by: lisa | comments 0