Welcome to the Official Website for young Model & Actress Ava Sydney Rodgers. Here you'll find the latest news, updates & images on this bright & talented little girl. You can view some of her work in her Portfolio. If you have any question's feel free to Email the Webmaster.
| | |
| --- | --- |
| 11 May 2015 | Happy Birthday! |
May 11th is officially here and Ava is ready to celebrate! There is no doubt about today being one of her favorite days of the year, everyone loves their birthday, and Ava is turning the big eleven today! Happy Birthday Ava! I hope you have an amazing day today as everyone joins in with well wishes to make your big day one to remember. Enjoy all of the different activities and traditions throughout the day that make this day special, and of course cake and presents are still pretty awesome! I hope the next twelve months as an eleven year old are full of excitement and happiness for you, that you get to do a lot of cool new things, and make a lot of fun new memories. Enjoy your day today, Happy Birthday!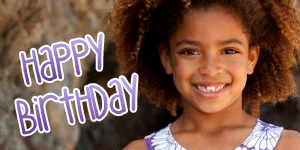 Posted by: lisa | comments 0
| | |
| --- | --- |
| 24 Dec 2014 | Happy Holidays! |
It really is the most wonderful time of year and Ava has been enjoying every minute of it! Time with family and friends, decorating, buying presents, making yummy treats, all of it is the best part of the holiday season. She would like to wish everyone a Happy Holidays, and hopes this season has brought you lots of love and happiness.
Posted by: lisa | comments 0
All month it has been busy as people get ready for Halloween and the other week KUSI News/Good Morning San Diego did a segment looking at how to make healthy Halloween treats for parties and trick or treating. They had several kids on hand helping them make the treats while it was broadcast live and Ava was one of them! Along with Payton and Caden she got to be featured throughout the segment and we got some fantastic close ups of her. She had fun working with Payton to make her treats, and was so proud of Caden who got interviewed during it. What an amazing experience and make sure to watch the clip below, Happy Halloween!


Posted by: lisa | comments 0