Welcome to the Official Website for young Model & Actress Ava Sydney Rodgers. Here you'll find the latest news, updates & images on this bright & talented little girl. You can view some of her work in her Portfolio. If you have any question's feel free to Email the Webmaster.
| | |
| --- | --- |
| 20 Sep 2011 | Stella Cove - BC Magazine |
Not too long ago Ava shot the spring 2012 Stella Cove line alongside many of her friends! It was a fantastic day on the beach with the amazing Gretchen Easton and we now have a sneak peek thanks to BC Magazine! Two images of Ava appear in their latest issue which published a feature on the company. So much fun as Ava got to play with bubbles and jump around on the beach! You can't beat an exciting day at the beach among friends! Thank-you Gretchen for such a fabulous time!


Posted by: lisa | comments 0
While summer is now over, that doesn't mean that the summer campaign updates are done!! Thanks to Jade we now have scans of Ava in the Mini Boden catalog!!! The catalog features two fun images of Ava we haven't seen before! She can be seen laughing with friends in a photo spread that was shot by the pool, very fun! What's really interesting is that beside some of the photos, the company features little quotes from the kids. Ava lets everyone know that smiles and laughs cure her sadness and that she loves the word heart.

Posted by: lisa | comments 0
Garnet Hill is getting ready for the colder weather with new clothing items and this means they are releasing a bunch of great new images on their website! Ava can now be spotted for the company's winter line in a very fun purple coat complete with a pink scarf and hat! The image is simply amazing and she sure is growing up right before our eyes! Ava had a fantastic time on location for the shoot, getting to do what she loves best and meeting a ton of new people. Thank-you so much to the crew for a fun filled day!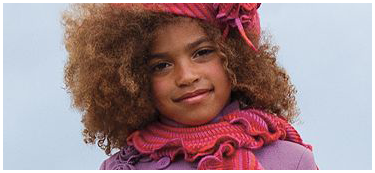 Posted by: lisa | comments 0