Welcome to the Official Website for young Model & Actress Ava Sydney Rodgers. Here you'll find the latest news, updates & images on this bright & talented little girl. You can view some of her work in her Portfolio. If you have any question's feel free to Email the Webmaster.
| | |
| --- | --- |
| 16 Mar 2012 | Alison Bernier Photoshoot |
Laughs and giggles outside with friends is how Ava spent her day not too long ago while doing a photoshoot with the amazing Alison Bernier! Ava and her new friend had a blast having a picnic and playing with all kinds of really neat props including a guitar and camera, lots of fun and excitement to fill the day! The images are absolutely stunning and I especially love the close up shot of Ava with the hood of her coat up and the flower in her hair. The one of her looking down and smiling with the camera is so sweet! Thank-you so much Alison for such a fabulous shoot!


Posted by: lisa | comments 0
Welcome to 2012! Hopefully everyone has had a great start to the year, I know I can't wait to see what opportunities it brings for Ava. To kick off the new year, we have some fantastic images of Ava's recent shoot for Stella Cove. Working with the wonderful Gretchen Easton she had a great time at the beach with a bunch of her friends, especially when they got to blow bubbles! Im sure for many of you that beach is looking really great right now, especially those with snow right now. I absolutely love the solo shot we got of Ava for the campaign, and how great does she look in purple! Her images can currently be seen on the main page of the company's website as well as their Facebook page, very neat! Thank-you Gretchen for such a fun filled day!

Posted by: lisa | comments 0
| | |
| --- | --- |
| 24 Dec 2011 | Happy Holidays! |
It's the most wonderful time of the year! A time for celebration, family and lots of exciting activities you only get to do at Christmas! Wishing everyone a terrific holiday whether it be Christmas or one of the many fantastic traditions at this time of year. Hopefully it is the best one yet and may your 2012 be one filled with lots of fun and excitement!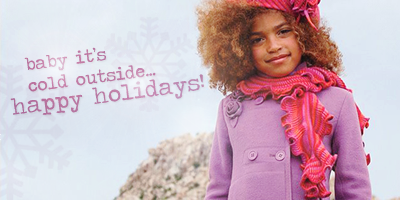 (Thanks Sarah for the banner!)
Posted by: lisa | comments 0